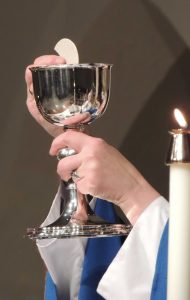 In the Episcopal Church, all baptized Christians may receive communion, so we make our first communion at our baptism. Special Communion is an opportunity for younger children to learn about Holy Communion (Eucharist) through classes that culminate in a special liturgical rite on a Sunday morning.
Special Communion will be celebrated on the First Sunday of Advent (November 28, 2021). Those wishing to celebrate their Special Communion should register as soon as possible by completing a registration form, and pick up an at-home packet of ten lessons to be completed with their families prior to November 28.
Registration forms are available at the church and  via the link below. Please complete the form and return to the church either via email, in person, or by mail. Lesson packets are available at the church and via the link below. Please bring the completed packet to the church in person or by mail.
For further information, please contact either Father Charles or the parish office at 302-652-8605.