News & Events
Trinity Parish
---
NEWS
---
---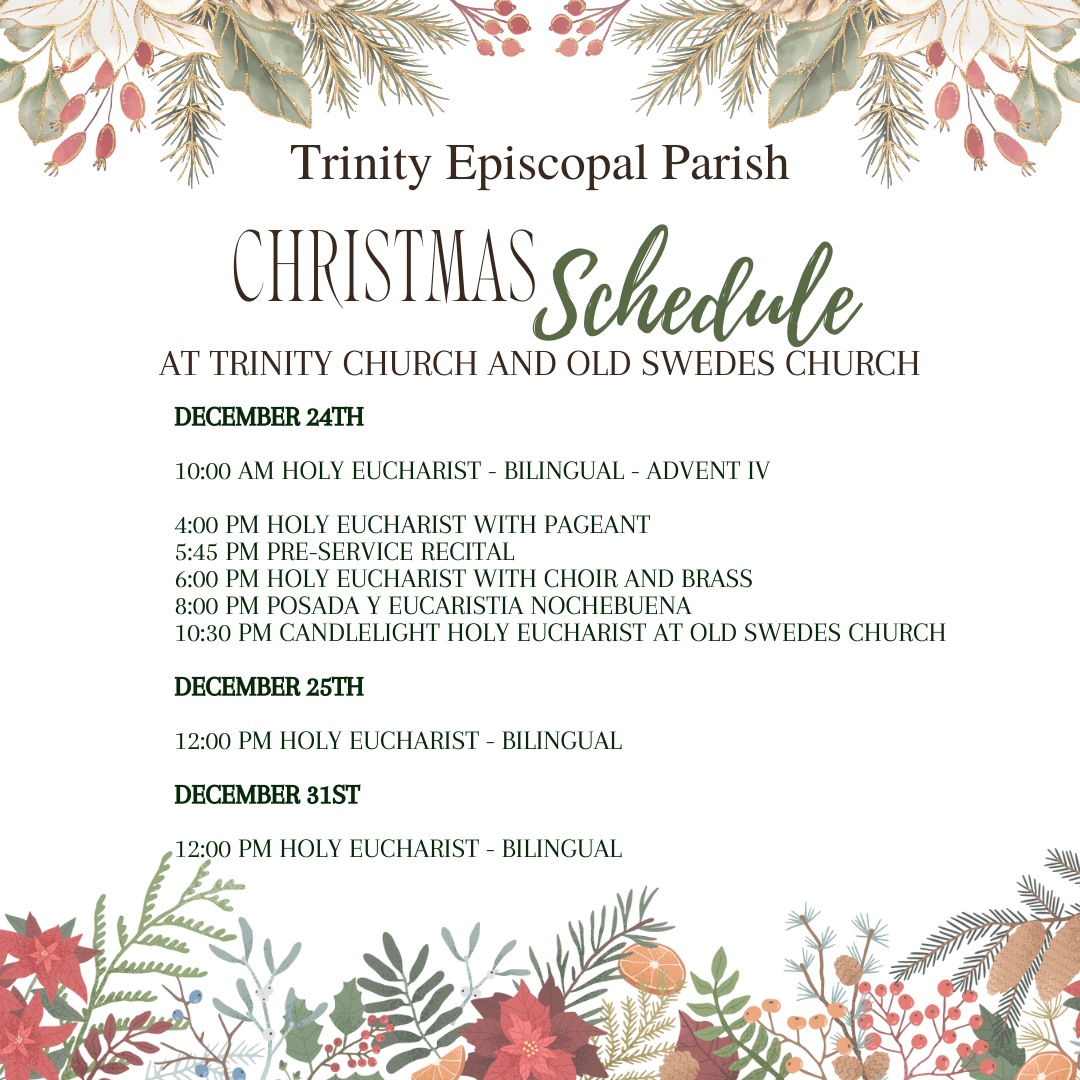 ---
---
---
Upcoming Events
---
---
Ongoing
Monday Bible Study at Noon via Zoom. To get the Zoom link, please email the parish office.
Vestry Meeting – 2nd Tuesday of the month at 7 pm at Trinity
Junta Meeting – 1st Sunday of the month after the noon service
Encore Chorale – Rehearsals on Wednesdays at 10-11:30 am at Trinity
Trinity Choir – Rehearsals on Thursdays at 7 pm at Trinity
November
11/29                 Advent Adult Formation at 7 pm via Zoom
December
12/3                   Christmas Pageant Rehearsal at 11:15 am—12:30 pm
12/3                   Special Communion at noon service
12/3                   Junta meeting after noon service
12/10                 Christmas Pageant Rehearsal at 11:15 am—12:30 pm
12/10                 Our Lady of Guadalupe at noon service
12/10                 St. Lucia festival at Old Swedes Church at 1 & 3 pm
12/13                 Encore Chorale Concert at 7 pm
12/16                 Greens Workshop at 9:30 am
12/16-24           Los Posadas at 7 pm
12/17                 Worship Service at Old Swedes Church at 9:30 am
12/17                 Christmas Pageant Rehearsal at 11:15 am—12:30 pm
12/17                 Caroling at 5:30 pm
12/17                 Deadline to submit Christmas memorials.
12/24                Christmas Eve
12/25               Christmas Day—Parish office closed
12/31               New Year's Eve
**See below for the weekly announcements.
---
Weekly Announcements
Becoming Beloved Community—Stewardship 2024: This year you have the option to complete your pledge card online via our website or by using the standard paper pledge card. The information you provide via the online pledge card will be sent directly to our finance manager from the website. Our website is secured for your protection. Please note, this form requests the same information as the standard paper pledge card. If you plan to give via VANCO, you will still need to set up your payment on the VANCO website. You can access the online card using this link: https://trinityoldswedes.church/stewardship-pledge-2024/. If you prefer to use a paper pledge card, you can find them at the back of the church.
Is it live or is it Memorex? – Once upon a time we were trying to be convinced of the quality of recorded performances.  The quality was purported to be as good if not better than live.  The modern twist on this is the emergence of AI in the realm of scholarship.  I propose an experiment.  I will have AI write three 5 minute Christmas Eve sermons (one on the Luke in the northern hemisphere (winter), one on Luke from the southern hemisphere, and one on John's prologue).  We will then explore the theology that AI chooses.  We will compare and contrast it with one of my Christmas Eve sermons.  The next and final class will be Wednesday night December 6th at 7pm on Zoom.  Please plan to join us.  
Jessie Ball duPont Fund Matching Grant: We have a similar opportunity as we did last year to qualify for a matching grant from the Jessie Ball duPont Fund. The grant is calculated by matching online donations received in November and December that are given through our online service, Vanco, directly or by simply scanning the QR code in the bulletin.  The match peaks at a maximum match of $500 for each donor. With this in mind, we hope we can count on your support.  If you have any questions, please see Jerry Lucas or Kathryn Jakabcin. 
CHRISTMAS PAGEANT REHEARSALS START TODAY! – Once again this year, the annual Trinity Christmas Pageant will be presented during the 4:00pm Service on Christmas Eve. Rehearsals for the Christmas Pageant will be held on the following three days:  TODAY, Dec. 3, Sunday, Dec. 10 and Sunday, Dec. 17, from 11:15am to 12:30pm, in the downstairs Dining Room here at Trinity.  If you would like your child or grandchild to participate in this year's pageant, please email our Director of Music, David Simmons, at david@trinityparishde.org as soon as possible. 
FREE HOLIDAY CONCERT:  ENCORE CHORALE OF WILMINGTON – Come ring in the spirit of the holiday season on Wednesday, December 13, at 7:00 pm, right here at Trinity, when The Encore Chorale of Wilmington, a 40-member vocal ensemble, under the direction of Trinity's Director of Music, David Simmons, presents a FREE holiday concert featuring both sacred and secular holiday classics.  It's "The Most Wonderful Time Of The Year!" 
'Tis the season for giving—The "giving" trees are up in the lobby at Trinity Church! The tree by the nursery is for donations of hats and mittens for the families in need in our community. On the tree next to the parish office are tags for gift cards for the residents of Epiphany House.  Please take a tag and return it with the items requested in a Christmas card  by Monday, December 18th. You can bring them with you on Sunday mornings or during the week to the parish office. 
Greens Workshop: Plan to join in the preparation of small arrangements of greens to go in the windows at Trinity. All greens will be provided. Please bring your own clippers and wear or bring gloves. The work is easy, the fellowship is welcoming, and we want you to come! Call Ashlin Bray at 302-658-5821 with any questions. 
Christmas memorials: Parishioners are invited to remember loved ones at Christmas by contributing to the funds used to decorate Trinity and Old Swedes for Christmastide. The minimum suggested contribution is $25, payable by Venmo or check. Please note "Christmas memorials" on your check. In addition, please print the names of those you are remembering so they can be listed accurately in the bulletin. Deadline for Christmas memorials is Sunday, December 17th. Thank you.
Thank you, Trinity Knitters! This year, the Trinity Knitters have donated 12 knitted hats to the Seamen's Center of Wilmington for their Christmas at Sea project, 44 knitted hats and 4 scarves to Friendship House for use as Christmas gifts to residents and for warmth to homeless people who seek Code Purple services on the coldest nights. Finally, look for the robust crop of bright, soft, and cozy hand-knitted hats on Trinity's hat-and-mitten tree. Knitters include Marianne Ennis, Diana Hallock, Beverly Van Horne, Ron Stach, Carrie Moore, Melissa Ennis, and Ashlin Bray.
Trinity is Going Caroling – Please join us for caroling on Sunday, December 17.  We will gather at the church at 5:30 p.m. Following caroling everyone is invited to attend a Posada at 7pm in the dining room. 
All Parish Zoom – Plan on joining us on January 24th at 7 pm for an all parish Zoom meeting. One of the things we learned during COVID is that we can be together in person and on-line and that both ways can be effective ways of nurturing community. We hope that as many people as possible will join us for this evening event. This is a way for us to connect so that those who are unable to attend church physically can get to socialize with others in the church. We plan to start the evening with some general conversation and then will shift to breakout room so that people can spend some time talking in small groups. If you have topics for discussion, please let us know. 
Stephens Ministry – The church has decided to create a Stephens Ministry. The initial goal of this ministry is to create a structure where members of our community can visit those who are homebound or in the hospital. We had some people sign up at our recent ministry fair and ask that you let us know if you are willing to visit fellow parish members. We are having an informational meeting on Sunday, December 10th after the 10 am service. Please join us.
Foyer Groups – By popular demand, the foyer groups will be back in the new year. This is another opportunity to get to know members of the congregation. For those of you who are new to the church these are dinner groups that will get together several times through the year. The groups consist of 6 to 8 people and mix people up with those they might not necessarily know. The same group of people get together so that there is a real opportunity to get to know the people in your group. In the past many strong friendships have developed because of these groups. We realize that everyone is not going to be able or willing to host for a variety of reasons but that should not stop you from participating. On the signup sheet we are going to ask that you indicate if you want to be a guest and/or if you  are able to host. Dinner does not have to be elaborate but can be if that is what your group chooses. Other options can include pizza, soup, take-out or whatever you decide. Signup sheets are available in the lobby.