News & Events
Trinity Parish
---
NEWS
---
---
---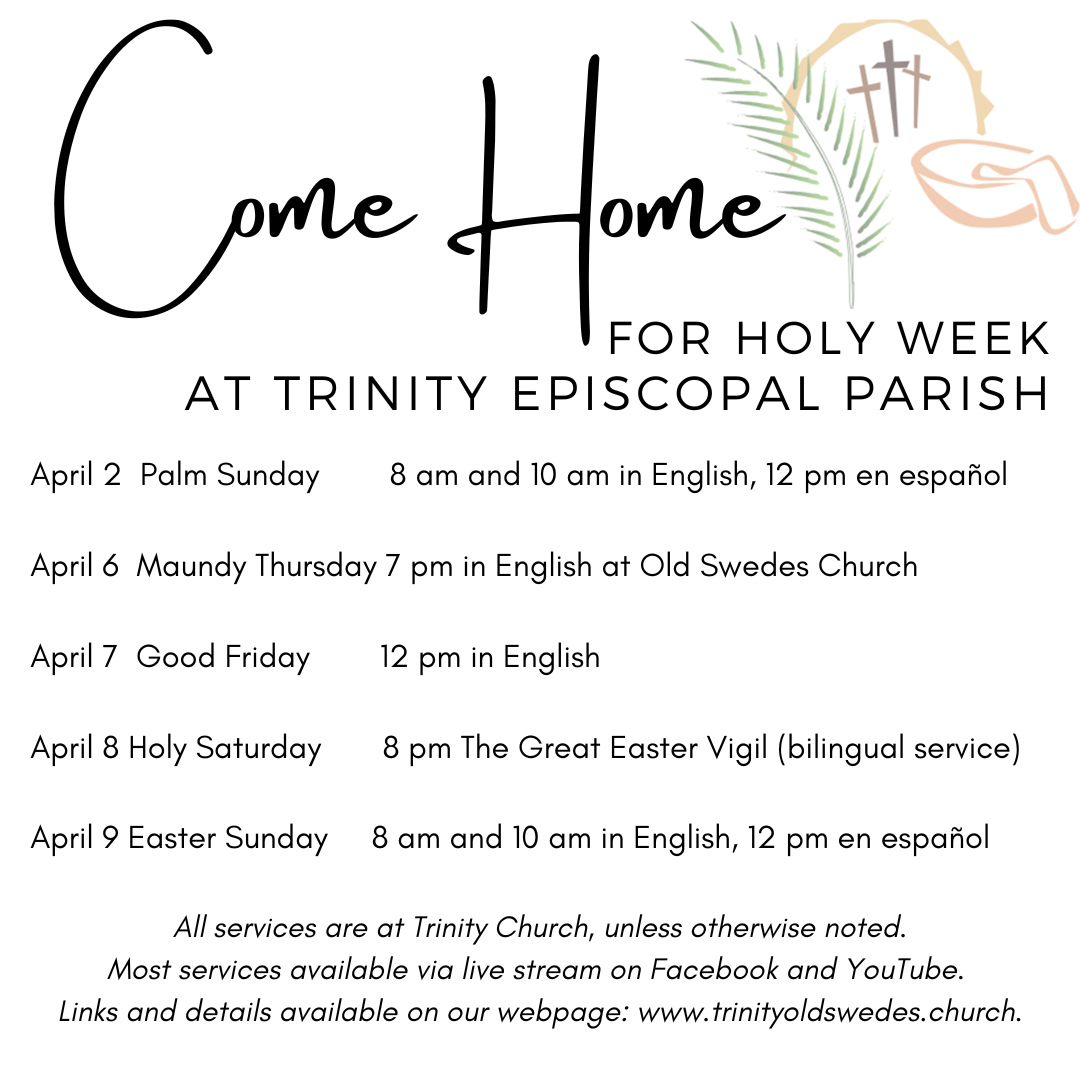 ---
Upcoming Events
---
---
Ongoing
Monday Bible Study at Noon via Zoom
Choir Rehearsal – Thursday evenings at 7 pm at Trinity
Encore Chorale – Thursday mornings at 10-11:30 am at Trinity
Knitting Group – 2nd & 4th Monday mornings at 9:30 – 11 am at Trinity
March
3/25 – March Madness Game Night at 5-7 pm at Trinity Church
3/27 – Knitting Group at 9:30-11 am at Trinity Church
3/28—Lenten Adult Formation 5-week series: Forgiveness at Christ Church C.H. at 6:30 pm
3/29—Lenten Adult Formation 5-week series: Forgiveness at 11 am at Trinity Church
3/30 – Easter Flower donations deadline
April
4/2—Palm Sunday
4/2 – Clothing Drive Drop off for the Clothing Bank of Delaware at 9-10 am at Trinity Church
4/6—Maundy Thursday – worship service at 7 pm at Old Swedes Church and at 7 pm en español en Iglesia de Trinidad
4/7—Good Friday – worship service at 12 pm at Trinity Church
4/8—Holy Saturday Easter Vigil at 8 pm at Trinity Church
4/9—Easter Sunday
4/10—Easter Monday – Trinity's parish office closed.
4/11—Vestry Meeting at 7 pm at Trinity Church
4/16 – Coffee Hour with Marta after services at Trinity Church
4/20—Encore Chorale Spring Concert at 7 pm at Trinity Church
4/30 – Newcomer's Gathering at 11 am at Trinity Church
4/30—The Arts at Trinity presents the Serafin Ensemble in concert at 4 pm at Trinity
**See below for the weekly announcements.
---
Weekly Announcements
Final Week: Lenten Adult Formation series on Forgiveness—Trinity Parish and Christ Church, Christiana Hundred are partnering for a 5-week series on the Christian theology of forgiveness. Participants will explore how we engage forgiveness in ourselves, our worship, and in the world. You have the option of joining us on Tuesdays at 6:30pm at Christ Church (505 Buck Road, Wilmington) for a meal, discussion, and sung Compline or on Wednesdays at 11am at Trinity (1108 N. Adams, Wilmington) for a discussion followed by Holy Eucharist. Content will be the same at both sessions. We request that participants register to ensure we have enough food. Sign up at trinityoldswedes.church, via the link on the Wednesday email.
Easter Flowers: Using flowers to celebrate the Risen Christ is an ancient custom in the church. At Trinity, we continue this by inviting parishioners to contribute memorial flowers honoring loved ones. The minimum contribution is $25; please include a list of those you are honoring with your check, and mark the memo line 'Easter flowers.' If you choose to give online, please send an email to office@trinityparishde.org with the list of those you are remembering. The deadline is Friday, March 30. Questions? Please call Ashlin Bray at 302-658-5821. Thank you for participating in the celebration of Easter.
Easter Egg Hunts will be held after every service on Easter Sunday. So we need eggs! Please sign up on the chart in the back of the church to bring and/or help hide the eggs. Real eggs are requested.
Knitters, cast on! The Trinity Knitters will meet at 9:30 am on Monday. March 27th. New knitters always welcome—we have yarn and needles for you!
Trinity's outreach support of Friendship House gives us many opportunities for Lenten Giving.  On April 2, we will have a clothing drive to help fill the needs our community through the Clothing Bank of Delaware run by Friendship House. Please bring your gently used clothing, without hangers, in tied plastic bags to Trinity on Palm Sunday between 9-10 am. Sarah Berninger will fill her car with your donated items. Contact Sarah Berninger for more info at berninger59@comcast.net or 302-351-2422. 
Help make the church sparkle for Easter! Holy Saturday, April 8, we are polishing up the church for Easter Sunday. Please join us at 10 am  at Trinity.
EASTER MORNING PRE-SERVICE RECITAL at 9:45 am: The 10:00 am Eucharist Service on Easter Sunday, April 9, will be preceded by a pre-service recital by brass quartet, organ and timpani that will begin at 9:45 am.  A highlight of the recital will be Johann Sebastian Bach's "My Spirit Be Joyful," for organ and two trumpets, from Bach's Easter Cantata.  Let the celebratory music of this recital help to prepare you for the joy of our Easter Eucharist!
April 16—Welcome Marta Coffee Hour. Bring your questions and welcome to coffee hour with Marta. Learn more about our newest Associate Rector during coffee hour after each service.
ENCORE SPRING CONCERT: The newly established Encore Chorale of Wilmington, for singers 55+, will present its second concert in Wilmington here at Trinity on Thursday, April 20 at 7:00 pm.  The concert, which will usher in the warmth of spring with songs of light and love, is FREE and the entire Wilmington community is encouraged to attend.  Trinity's Director of Music, David Simmons, is the conductor of this new ensemble for older adult singers.
THE ARTS AT TRINITY presents the Serafin Ensemble in the beautiful acoustics of Trinity's sanctuary on Sunday, April 30, at 4:00 pm, in a program entitled "A Little Night Music with the Serafins." The repertoire includes Mozart's Eine Kleine Nachtmusik and Beethoven's Violin Sonata in F (Spring).  As with all TAAT concerts, there is no charge for admission to the performance, but donations are graciously accepted before and after the performance.  Bring a friend and enjoy an afternoon of gorgeous music!
Spring is right around the corner, and so is the Women's Retreat!  This year our speaker is Susan Long.  She is an experience facilitator at retreats and workshops, including at the Franciscan Spiritual Center in Aston, PA.  For our retreat, Susan's focus will be on Living Mindfully through meditation supported by scripture.  The retreat will run from the evening of Friday, May 12 –  noon on Sunday, May 14th.  Price will be dependent on the number of attendees, but ranges from $250-$300.  Scholarships are available by contacting Reverend Patty.  Please contact Kim Denhardt at kdenhardt@gmail.com with questions or to sign up.
Trinity's Newcomer's Welcome Gathering will be held after the 10 am services on April 30th and May 7th. Join us in the Trinity Dining room for refreshments and an opportunity for us to know one another better. Anyone who has joined our community within the last 2 years is welcome. Week One will focus on getting to know one another and how the Holy Spirit led us to Trinity. Week Two will utilize the short book A People Called Episcopalians to explore who we are and how we worship. Please sign up at church or email the office so we can make sure we have enough books and snacks. Childcare will be available.
Join us as Trinity Episcopal Parish's team walks for Friendship House in the 2023 Highmark Walk for a Healthy Community. If Team Trinity Episcopal Parish raises $2,000 and recruits 20 walkers, a generous donor will give an additional $1,000 to Friendship House! You can support Friendship House and our team by signing up to walk, or virtually walk,  or raise money, or donate to the Trinity's team making the walk. The money we raise goes directly to Friendship House. To register or donate to our team go to the events section of the Friendship House web site:  www.friendshiphousede.org. Click on Register for the Highmark Walk.  Then click on Register Here or Donate to the Walk. It is important that you search for our team name "Trinity Episcopal Parish" – not  church, so that your donation will go toward our total and reaching our goal. Feel free to contact Sarah Berninger with any questions at 302-351-2422 or at berninger59@comcast.net.
TRINITY CHOIR – Are you a person who just loves to sing and have wondered what is like to be a part of Trinity's choir?  The Trinity Choir is a fun-loving group of dedicated singers who rehearse on Thursday evenings at 7:00 pm and Sunday mornings at 9:00 am in order to prepare music for our 10:00 Service of Worship each week.  We would love to have you join us!  No prior experience singing in a choir is necessary.  All you need is a love of singing.  For more information, please email our Director of Music, David Simmons, at david@trinityparishde.org.