---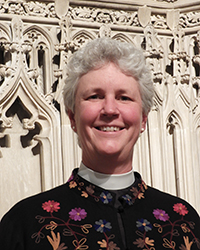 The Rev. Patricia Downing
Rector
---
The Reverend Patricia S. Downing has served as Trinity Parish rector since 2008, having previously served as rector of Good Shepherd Parish in Silver Spring, Maryland. She was educated at the University of Vermont and the General Theological Seminary, New York City. She serves on the Old Swedes Foundation board and helped negotiate the agreement by which Old Swedes became part of the First State National Historic Park. Mother Downing is secretary of the Program, Budget and Finance Committee of the Episcopal Church and a trustee of the General Theological Seminary. Within the diocese, she has served as president of the Standing Committee, vice-president of Council, member of the diocesan finance and personnel committees. She is a deputy to General Convention. Reflecting Trinity Parish's commitment to "strive for justice and peace among all people, and respect (for) the dignity of every human being" (Baptismal Covenant), Patty is treasurer of ACLU of Delaware, on the board of the Coalition to Dismantle the New Jim Crow, active with Delaware Repeal of the Death Penalty, and Equality Delaware, among other community organizations.
---
The Reverend Juan George has been associate rector with Trinity Parish since 2007, with particular responsibility for the parish's Spanish-speaking community. A native of the Dominican Republic, where his family was Episcopalian, Father George immigrated to the United States in 1965 and was educated at Medgar Evers College of The City University of New York and Adelphi University. His life experience includes factory work, service in the United States Army, and long-time bilingual program educator with the New York State Department of Corrections. Responding to a call to the priesthood he had felt since childhood, Father Juan attended the Diocese of New York's Hispanic Pastoral Institute at the General Theological Seminary. He was ordained to the priesthood in 1997.
---
Called to Trinity Parish in 2018, Charles Lane Cowen holds a M.Div. from the Seminary of the Southwest in Austin, Texas, and a B.A. in drama from the University of Dallas. He has served on various diocesan committees in the Diocese of Rhode Island, including two years on the Commission for Congregational Development. He also served as the interim director of the Episcopal Charities Fund of Rhode Island, where he oversaw the development of new volunteer training programs and promotional materials. Charles was trained as a theater artist and storyteller, which he has incorporated into his passion for studying and teaching Holy Scripture. Charles' theological reflections on Holy Scripture have been published by the Episcopal Digital Network, Seminary of the Southwest, and Modern Metanoia—a lectionary-based blog for millennial church leaders. Charles is a passionate advocate for the arts and arts education, and he enjoys attending theater, music, and dance performances.