---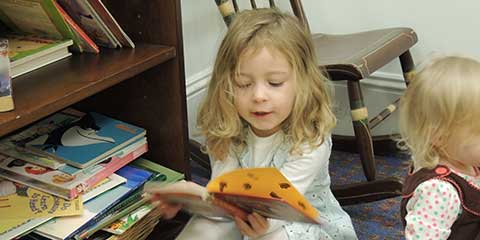 ---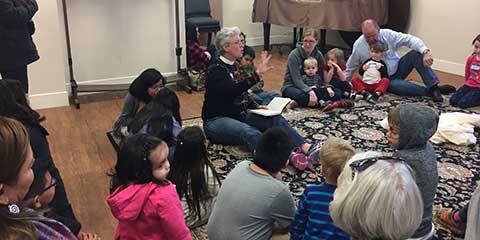 ---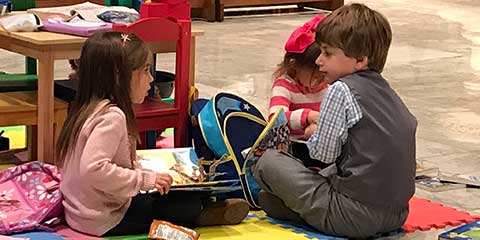 ---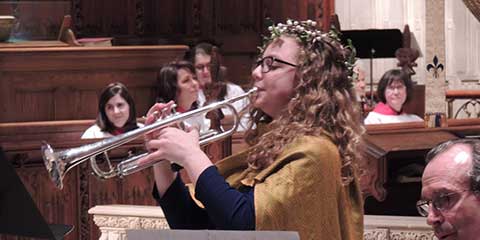 ---
Jesus said, "Let the little children come to me, and do not hinder them, for the kingdom of heaven belongs to such as these." (Matt. 19:14)
We have a wide variety of offerings for children, young and not so young.
Waffle Church
Waffle Church is a monthly Bible-oriented program geared to families with children ages 3-10 years old. The Reverend Patty Downing shares a Bible story with the children and their parents, a craft is done and of course there's WAFFLES! Waffle Church is held on the 2nd Saturday of each month, September – May.
Nursery
We have a nursery available for our littlest ones (infant through 4 years) during the 10 am and noon services at Trinity. Staffed by trained caregivers, the nursery provides a warm, caring environment for infants and toddlers during Sunday worship services and special events.
Sunday School
Trinity is pleased to offer an online Sunday School program at 10:30am each Sunday. Alyse Calder has been working with her team to create some crafts to mail out to students and an online time of learning and fellowship. It's a fun and exciting time each week with an interactive Bible centered hour, including a Bible lesson, a related craft, and snack time! The children of Trinity are invited to join us via Zoom as we pray together and learn the story of God's people through the Bible. The Zoom information will be sent to those who are enrolled in Sunday School. Please register by Friday at noon to ensure you have all of the information. To enroll your child in Sunday School, please send an email to office@trinityparishde.org with the names(s) of your child(ren) and their age(s) as well as a mailing address where we can send crafts. Join us to learn God's word, have some fun, and make new friends! All families with children ages 5 – 12 years old are welcome!
---
Youth 6th – 12th grade

Trinity parish is a member of the Wilmington area Episcopal Youth Group. Our young people participate in a variety of activities including community outreach, Bible study, fundraisers, outings to fun events like indoor rock climbing and bowling. They also host our annual Rise Against Hunger meal-making event.
Worship Assistants
Children and youth are active participants in our worship services. For more information, click here.
Christmas Pageant
The annual Christmas Pageant is one of the highlights for our children — regardless of their age. The youngest start as adorable sheep and angels, and as they grow, they become shepherds, innkeepers, Gabriel, Joseph, and Mary. College students often return to participate as the storytellers.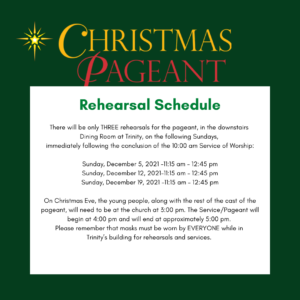 ---