---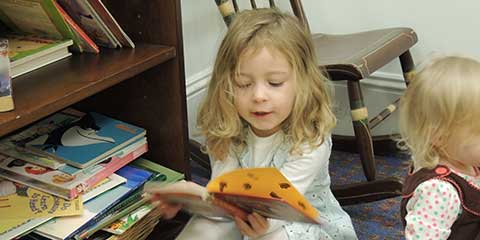 ---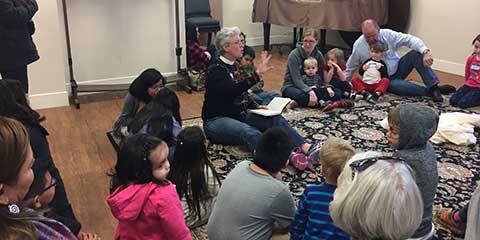 ---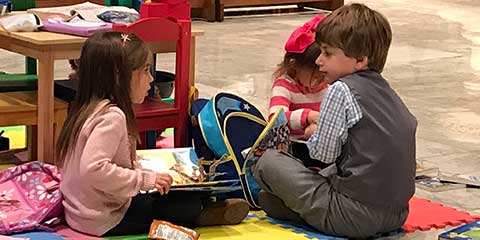 ---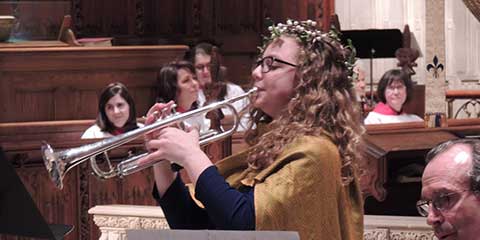 ---
Jesus said, "Let the little children come to me, and do not hinder them, for the kingdom of heaven belongs to such as these." (Matt. 19:14)
We have a wide variety of offerings for children, young and not so young.
Waffle Church
Waffle Church is a monthly Bible-oriented program geared to families with children ages 3-10 years old. The Reverend Patty Downing shares a Bible story with the children and their parents, a craft is done and of course there's WAFFLES! Waffle Church is held on the 2nd Saturday of each month, September – May. Our next Waffle Church is on Saturday, September 10 at 10-11 am at Trinity Church.
Nursery
We have a nursery available for our littlest ones (infant through 4 years) during the 10 am and noon services at Trinity. Staffed by trained caregivers, the nursery provides a warm, caring environment for infants and toddlers during Sunday worship services and special events.
Sunday School
Sunday School is available in person and hybrid via ZOOM. September through early June we offer Sunday School at 10—10:40 am for the 10 am service and at 12-12:40 pm for the noon service. This ensures the children will be present in time for communion. We do ask that masks be worn by the kids and teachers because of the age range in the classroom. We do keep social distance during snack time. Hand sanitizers are available and safety precautions are taken. Please contact the parish office or one of our priests for more information.
Summer Church for Families
At-home Summer Church Packets are available via this link or in the church. We know that many families travel during the summer months, so we've put together packets for families to engage with the gospel lessons for each Sunday. In 10 – 15 minutes your family can pray together, read a kid-friendly version of the gospel, and engage in a simple but fun activity. We hope this makes living into our Baptismal Covenant to continue in the apostles' teaching and in the prayers easy and fun, even while at the beach! Click on the link above to download a packet or contact the parish office to have one mailed to you.
---
Youth 6th – 12th grade

Trinity parish is a member of the Wilmington area Episcopal Youth Group. Our young people participate in a variety of activities including community outreach, Bible study, fundraisers, outings to fun events like indoor rock climbing and bowling. They also host our annual Rise Against Hunger meal-making event.
Worship Assistants
Children and youth are active participants in our worship services. For more information, click here.
Christmas Pageant
The annual Christmas Pageant is one of the highlights for our children — regardless of their age. The youngest start as adorable sheep and angels, and as they grow, they become shepherds, innkeepers, Gabriel, Joseph, and Mary. College students often return to participate as the storytellers.
---