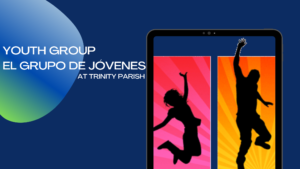 Camp Arrowhead is visiting Trinity on Sunday, January 29th. After the mass there will be a meeting in the dining room to learn more about camp and register any children interested. Scholarships are available. Camp Arrowhead has reserved spots for us in sessions for those currently in 2nd through 8th grade. If you have an older child interested, please speak with a priest TODAY.
Camp Arrowhead visitará Trinity el domingo 29 de enero. Después de la misa habrá una reunión en el comedor para conocer más sobre el campamento e inscribir a los niños interesados. Las becas están disponibles. Camp Arrowhead ha reservado lugares para nosotros en sesiones para aquellos que actualmente están en 2º a 8º grado. Si tiene un niño mayor interesado, hable con un sacerdote HOY.
The next Youth Group event is on Saturday, February 18th. Details coming soon!
Resources and Forms for Youth Group /Recursos y Formulários para el grupo de jóvenes: