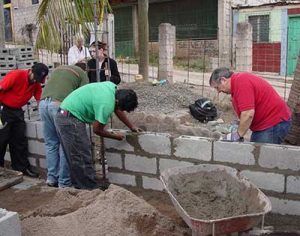 Jesus' commandment that we are to love God and our neighbor is expressed by our strong commitment to community outreach. We have always shared with others some of the abundance with which we have been blessed — whether the need is just around the corner or halfway around the world. Two examples of this are Delaware Futures and TRIAD — we saw a need and started a program.
Delaware Futures prepares economically disadvantaged youth for college by providing academic, social, motivational support and cultural enrichment activities throughout their high school experience. Upon high school graduation, students who meet the academic requirements qualify for partial or full tuition scholarships to one of ten partnering colleges.
TRIAD Addiction Recovery Services provides free counseling and assistance navigating the treatment process for anyone suffering from drug or alcohol addiction.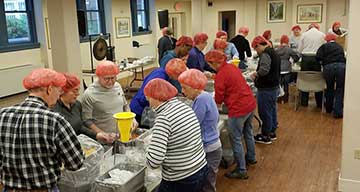 Trinity parishioners saw a need to help members of the Wilmington community and started these programs in the parish hall. Now they have both grown into independent 503c non-profits for which we provide space where they can continue on their path.
In addition, Trinity Parish is a place where people from different backgrounds can come together to examine how public policies affect the fundamental dignity of those among us. We teach each other through relationships, and together we learn how to advocate for just policies that will make our community stronger.
Friendship House is a non-profit ministry for the homeless in Delaware. It provides temporary and transitional shelters, offers counseling and referral services, and job training programs. Trinity members provide many services to support Friendship House programs, such as:
Preparing and sharing dinner with homeless men at an overnight shelter
Preparing and sharing dinner with women in a transitional housing program
Tutoring for GED, ESL, and computer programs
Hosting homeless persons in a daytime winter sanctuary
Cleaning, refurbishing, and painting facilities as needed