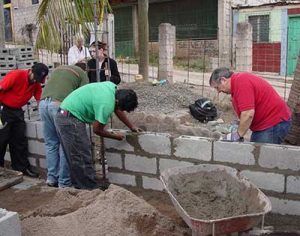 Jesus' commandment that we are to love God and our neighbor is expressed by our strong commitment to community outreach. We have always shared with others some of the abundance with which we have been blessed — whether the need is just around the corner or halfway around the world. Two examples of this are Delaware Futures and TRIAD (now Limen Recovery + Wellness) — we saw a need and started a program.
Delaware Futures Many teens want to go to college. But not every student knows how to get there. Starting in the summer after eighth grade, Delaware Futures helps at-risk, economically disadvantaged youth develop the social, academic and problem-solving skills they need to qualify for college and expand their opportunities.
Students who complete our program can qualify for a full or partial tuition scholarship to one of our twelve partner colleges. Since 1998, 88% of our graduating students have been accepted to college and 12% have gone into the armed forces.
Limen Recovery + Wellness   (formerly TRIAD) provides free counseling and assistance navigating the treatment process for anyone suffering from drug or alcohol addiction.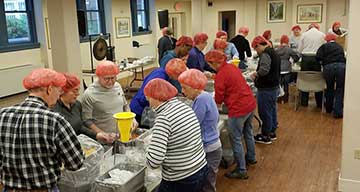 Trinity parishioners saw a need to help members of the Wilmington community and started these programs in the parish hall. Now they have both grown into independent 503c non-profits for which we provide space where they can continue on their path.
In addition, Trinity Parish is a place where people from different backgrounds can come together to examine how public policies affect the fundamental dignity of those among us. We teach each other through relationships, and together we learn how to advocate for just policies that will make our community stronger.

Friendship House is a non-profit ministry for the homeless in Delaware. It provides temporary and transitional shelters, offers counseling and referral services, and job training programs. Trinity members provide many services to support Friendship House programs, such as:
Preparing and sharing dinner with homeless men at an overnight shelter
Preparing and sharing dinner with women in a transitional housing program
Tutoring for GED, ESL, and computer programs
Hosting homeless persons in a daytime winter sanctuary
Cleaning, refurbishing, and painting facilities as needed
Serving our Community through Friendship House Shelters
Trinity Episcopal Parish continues to be a supporting faith community member of Friendship House. There are many ways to support our mission.
Meals for Clark House and Epiphany House Volunteers Needed!
Trinity provides dinner on the 1st Monday of each month for the men at Clark House and on the 3rd Wednesday of each month for the women at Epiphany House. Time to sign up for the Spring meals at Clark and Epiphany Houses! Most meals are open for signing up. Please contact office@trinityparishde.org or sign up at the church on Sunday.
All Clothing Donations
Friendship House is now working with the Clothing Bank of Delaware. The clothing bank donations are Monday – Thursday at 8:30 am to 2 pm at 1603 N. Jessup St., Suite 3, Wilmington. If your family needs items from the clothing bank, please contact the Friendship House helpline at 302-482-2271.
Lenten Giving
Trinity's outreach support of Friendship House gives us many opportunities for Lenten Giving.  We will have information on new opportunities for each week if you want to build this into your Lenten practices.
The first opportunity is to support Friendship House's School Uniform Initiative for lower income children in our community required to wear uniforms.  You can donate funds or you can go to provided links and order the clothing which will go directly to the Clothing Bank.  Here is the link to the page with all the connections: School Uniforms – Friendship House (friendshiphousede.org)