Where do I enter for Sunday services?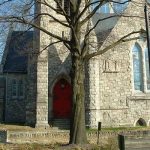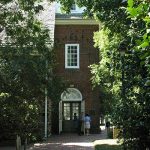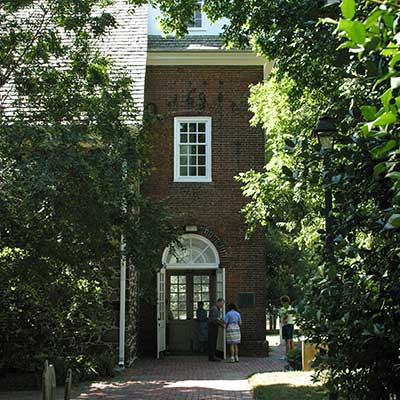 At Trinity Church, you can either through either of the two doors that face N. Adams Street. Once you enter, an usher will greet you and provide any assistance you need.
Old Swedes Church's entry is located in the bell tower. From the parking lot, enter the church grounds and follow the brick path to the bell tower. Once inside, you will be greeted and shown around the church.
What are services like?
If this will be your first time visiting an Episcopal church, our services may seem like a lot of standing, kneeling, sitting, and singing. You'll be given a bulletin that will guide you through the service, so feel free to participate as much or as little as you wish. You are welcome to come forward and take communion or receive a blessing from the priest, or if you'd like to just sit quietly and take it all in, that's okay, too.
Should I identify myself as a newcomer? 
Trinity Parish has no shoulds. We hope that you find us to be a friendly congregation, and we want you to feel as comfortable as possible when you visit. While we would love a chance to meet you, please do not feel like you must identify yourself if you do not wish. You can slip into a worship service and check us out without identifying yourself to anyone if that is what you choose. A member of our newcomer committee will be available after the service to greet you and introduce you to others during the coffee hour if you are interested.
What's available for my children?
We have a staffed nursery at the 10 a.m. and noon services in a nursery just steps from the worship space.
Sunday School is provided via Zoom and in person on Sunday mornings. Please see our page on Children and Youth for more information.
Do I have to be baptized or confirmed to participate in Holy Eucharist?
The canons (the laws of the Episcopal Church) direct that receiving Holy Communion is for those who are baptized in the name of the Father and the Son and the Holy Spirit as the sacrament of Christ's Body and Blood renews the redeeming power of God given in Holy Baptism. Some in the Church are calling for Open Communion, reflecting the inclusive nature of our Lord Jesus who welcomed all to his Table. We do not check for your baptismal ID when you come to the rail. The Holy Spirit is at work. This is the Lord's Table!
How do I take communion?
Follow those in front of you and wait for an usher to direction you to the altar rail. The priest will come with a host or morsel of bread. Kneel at the communion rail with one hand over the other. If you would like gluten-free host, place your right hand on your left shoulder. You may eat the host then drink wine from the chalice, or you may hold the host and dip it into the wine chalice, or you may eat the host and cross your arms to indicate that you do not want to partake of the wine. All are completely acceptable.
Do I have to take communion?
No. You may remain in your chair. If you like and want to join people receiving Communion, come to the rail for a blessing. To receive a blessing, simply cross your arms over your chest.
How old do children have to be to receive Communion?
At Trinity Episcopal Parish, we teach that Baptism and Communion are connected rituals, so children may start receiving as soon as they are baptized. Instruction occurs in our programs of religious formation for children. If your child does not want communion, it is as easy as shaking your head or having the child cross their arms over their chest for a blessing.
Is there a dress code or dress expectation?
No. However, most wear business casual, but all are welcome regardless of dress. During the summer, the dress is much more casual.
Are there tours given of the church and parish buildings?
Both churches are on the National Register of Historic Places, and tours are available. Trinity Church is open weekdays from 9:00 a.m. to 3:00 p.m. Old Swedes Church is part of the First State National Historical Park. For more information about touring Old Swedes Church, visit the National Park website or The Old Swedes Foundation.